It is with great sadness that Manitoba Gymnastics shares the news of the passing of Elfriede Goermann.
In 1977, Elfriede and her husband Wolfgang started a new club, Winnipeg Gymnastics Center. She served on the Women's Technical Committee in Manitoba in positions such as Chairperson, Vice-Chairperson, Coaching Chairperson and Club Representative. As a Level 4 NCCP coach she represented Manitoba and Canada at various events including:
Western Canadian Championships: 1974 – 2006
Canadian Championships: 1975 – 2006
Canada Winter/Summer Games: 1975, 1978, 1979, 1987, 1990, 1991
Moscow News, USA vs Canada, Japan Junior Invitational, Coca Cola International – 1977
Hungarian Invitational, Champions All Invitational, Pacific Rim, Bulgaria vs Canada, China International, World Championships; Chunichi Cup – 1978
Gold Top International, Pacific Rim, Pan Am Games, Spartakiade, World Championships, World Cup, Chunichi Cup – 1979
Coached an Olympic Team Member – Moscow Olympics (Boycotted) – 1980
European Tour, World Championships – 1981
Japan and USA International Invitationals – 1982
Mexico International Invitational – 1983
Coached Kathleen Finnegan-Leipsic – Olympic Alternate, Coached Monica Goermann – Qualified for Olympics – 1984
Hungary International Invitational – 1985
Austrian International Invitational – 1990
As a Brevet judge; she judged at many competitions including the 1976 Olympics in Montreal. In addition she was the recipient of many awards such as the Coach of the Year, Official of the Year, Jack Mowat Award, Manitoba Sports Hall of Fame Inductee; Elfriede was also named as a Life Member of Gymnastics Canada for her dedication and contribution to the sport.
Our deepest condolences to the Goermann family during this difficult time. Her achievements and lasting impact on the Sport of Gymnastics in Manitoba will never be forgotten.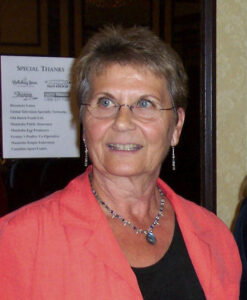 https://passages.winnipegfreepress.com/passage-details/id-293242/Goermann_Elfriede